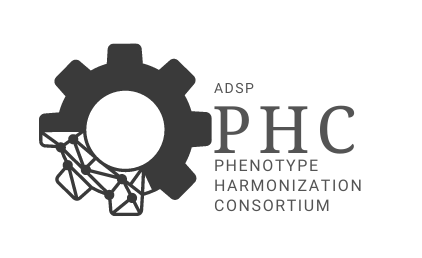 Learn more:
vmacdata.org/adsp-phc
The Alzheimer's Disease (AD) Sequencing Project (ADSP) was initiated in 2012 with a focus on identifying novel genes driving risk and resilience in AD and related dementias (ADRD). To date, the ADSP has curated sequencing data from 20,000+ individuals from 39 cohorts, which will increase to 100,000 participants across 70+ cohorts by 2023. The ADSP has focused primarily on AD case/control phenotypes derived from clinical data; however, advancements in our understanding of AD and movement toward a biological definition that integrates pathological and neurodegenerative aspects of the disease, many of which precede clinical symptoms by decades, has presented an opportunity and pressing need to integrate rich endophenotypic data and characterize the genetic architecture of these complex biological cascades in ADRD.
The ADSP Phenotype Harmonization Consortium (ADSP-PHC, U24-AG074855) was established in response to PAR-20-099 to harmonize the rich endophenotype data across cohort studies to enable modern genomic analyses of ADRD. The mission of the ADSP-PHC is to work in coordination with other ADSP workgroups and initiatives to streamline access to endophenotype data, provide high quality phenotype harmonization across domains, and provide comprehensive documentation of both data availability and harmonization procedures, with the goal of generating harmonized data that will become a "legacy" dataset perpetually curated and shared through NIAGADS.
The aims of the ADSP-PHC are below:
Procure, collate and curate endophenotype data from ADSP cohort studies.
Harmonize data from ADSP cohort studies leveraging advanced statistical approaches.
Disseminate harmonized phenotypes and harmonization protocols to the research community.
Educate the research community on available harmonized resources and best practices.
Current Documentation:
ADSP-PHC Read Me
ADSP-PHC Cognitive Harmonization Read Me
ADSP-PHC Fluid Biomarker Harmonization Read Me
ADSP-PHC Neuropathology Harmonization Read Me
MPI:
Cuccaro, Michael
Hohman, Timothy J.
Toga, Arthur
Domain Leads:
Beecham, Gary
Brickman, Adam
Crane, Paul
Cruchaga, Carlos
Davatzikos, Christos
Habes, Mohamad
Landman, Bennett
Mayeux, Richard
Mez, Jesse
Montine, Thomas
Mormino, Elizabeth
Risacher, Shannon
Saykin, Andrew
Thompson, Paul
Tosun-Turgut, Duygu
PAR-20-099 Harmonization of Alzheimer's Disease and Related Dementias (AD/ADRD), (U24)
Alzheimer's Disease Sequencing Project Phenotype Harmonization Consortium (ADSP-PHC), U24-AG074855; MPI: Timothy J. Hohman, Michael Cuccaro, Arthur Toga; Project Period: September 30, 2021 – August 31, 2026
The ADSP Phenotype Harmonization Consortium (ADSP-PHC) is funded by NIA (U24 AG074855, U01 AG068057 and R01 AG059716).
The ADSP-PHC cohorts include: Adult Changes in Thought (ACT, U01 AG006781, U19 AG066567), the Alzheimer's Disease Centers (ADC, P30 AG062429 (PI James Brewer, MD, PhD), P30 AG066468 (PI Oscar Lopez, MD), P30 AG062421 (PI Bradley Hyman, MD, PhD), P30 AG066509 (PI Thomas Grabowski, MD), P30 AG066514 (PI Mary Sano, PhD), P30 AG066530 (PI Helena Chui, MD), P30 AG066507 (PI Marilyn Albert, PhD), P30 AG066444 (PI John Morris, MD), P30 AG066518 (PI Jeffrey Kaye, MD), P30 AG066512 (PI Thomas Wisniewski, MD), P30 AG066462 (PI Scott Small, MD), P30 AG072979 (PI David Wolk, MD), P30 AG072972 (PI Charles DeCarli, MD), P30 AG072976 (PI Andrew Saykin, PsyD), P30 AG072975 (PI David Bennett, MD), P30 AG072978 (PI Neil Kowall, MD), P30 AG072977 (PI Robert Vassar, PhD), P30 AG066519 (PI Frank LaFerla, PhD), P30 AG062677 (PI Ronald Petersen, MD, PhD), P30 AG079280 (PI Eric Reiman, MD), P30 AG062422 (PI Gil Rabinovici, MD), P30 AG066511 (PI Allan Levey, MD, PhD), P30 AG072946 (PI Linda Van Eldik, PhD), P30 AG062715 (PI Sanjay Asthana, MD, FRCP), P30 AG072973 (PI Russell Swerdlow, MD), P30 AG066506 (PI Todd Golde, MD, PhD), P30 AG066508 (PI Stephen Strittmatter, MD, PhD), P30 AG066515 (PI Victor Henderson, MD, MS), P30 AG072947 (PI Suzanne Craft, PhD), P30 AG072931 (PI Henry Paulson, MD, PhD), P30 AG066546 (PI Sudha Seshadri, MD), P20 AG068024 (PI Erik Roberson, MD, PhD), P20 AG068053 (PI Justin Miller, PhD), P20 AG068077 (PI Gary Rosenberg, MD), P20 AG068082 (PI Angela Jefferson, PhD), P30 AG072958 (PI Heather Whitson, MD), P30 AG072959 (PI James Leverenz, MD), the Alzheimer's Disease Neuroimaging Initiative (ADNI), funded by the Alzheimer's Disease Neuroimaging Initiative (ADNI) (National Institutes of Health Grant U01 AG024904) and DOD ADNI (Department of Defense award number W81XWH-12-2-0012). ADNI is funded by the National Institute on Aging, the National Institute of Biomedical Imaging and Bioengineering, and through generous contributions from the following: AbbVie, Alzheimer's Association; Alzheimer's Drug Discovery Foundation; Araclon Biotech; BioClinica, Inc.; Biogen; Bristol-Myers Squibb Company; CereSpir, Inc.; Cogstate; Eisai Inc.; Elan Pharmaceuticals, Inc.; Eli Lilly and Company; EuroImmun; F. Hoffmann-La Roche Ltd and its affiliated company Genentech, Inc.; Fujirebio; GE Healthcare; IXICO Ltd.; Janssen Alzheimer Immunotherapy Research & Development, LLC.; Johnson & Johnson Pharmaceutical Research & Development LLC.; Lumosity; Lundbeck; Merck & Co., Inc.; Meso Scale Diagnostics, LLC.; NeuroRx Research; Neurotrack Technologies; Novartis Pharmaceuticals Corporation; Pfizer Inc.; Piramal Imaging; Servier; Takeda Pharmaceutical Company; and Transition Therapeutics. The Canadian Institutes of Health Research is providing funds to support ADNI clinical sites in Canada. Private sector contributions are facilitated by the Foundation for the National Institutes of Health (www.fnih.org). The grantee organization is the Northern California Institute for Research and Education, and the study is coordinated by the Alzheimer's Therapeutic Research Institute at the University of Southern California. ADNI data are disseminated by the Laboratory for Neuro Imaging at the University of Southern California, the Memory ang Aging Project at the Knight ADRC (Knight ADRC), supported by NIH grants R01AG064614, R01AG044546, RF1AG053303, RF1AG058501, U01AG058922 and R01AG064877 to Carlos Cruchaga. The recruitment and clinical characterization of research participants at Washington University was supported by NIH grants P30AG066444, P01AG03991, and P01AG026276. Data collection and sharing for this project was supported by NIH grants RF1AG054080, P30AG066462, R01AG064614 and U01AG052410. This work was supported by access to equipment made possible by the Hope Center for Neurological Disorders, the Neurogenomics and Informatics Center (NGI: https://neurogenomics.wustl.edu/) and the Departments of Neurology and Psychiatry at Washington University School of Medicine; the Minority Aging Research Study (MARS, R01 AG22018, R01 AG42210), the National Alzheimer's Coordinating Center (NACC, U24 AG072122),the National Institute on Aging Late Onset Alzheimer's Disease Family Study (NIA- LOAD, U24 AG056270), the Religious Orders Study (ROS, P30 AG10161, P30 AG72975, R01 AG15819, R01 AG42210), the RUSH Memory and Aging Project (MAP, R01 AG017917, R01 AG42210), and the National Institute on Aging Genetics of Alzheimer's Disease Data Storage Site (NIAGADS, U24AG041689) at the University of Pennsylvania, funded by NIA.
Mukherjee, S, Choi, S.-E., Lee, M, Scollard, P, Trittschuh, E. H., Mez, J, Saykin, A. J., Gibbons, L. E., Sanders, R. E., Zaman, A. F., Teylan, M. A., Kukull, W. A., Barnes, L. L., Bennet, D. A., Lacroix, A., Larson, E. B., Cuccaro, M., Mercado, S., Dumitrescu, L., Hohman, T. J., Investigators from ACT, ADNI**, ROS, MAP, MARS, NACC, and Crane, P. K., (2022): Cognitive domain harmonization and co-calibration in studies of older adults. Neuropsychology. DOI: 10.1037/neu0000835. PMC Pending.